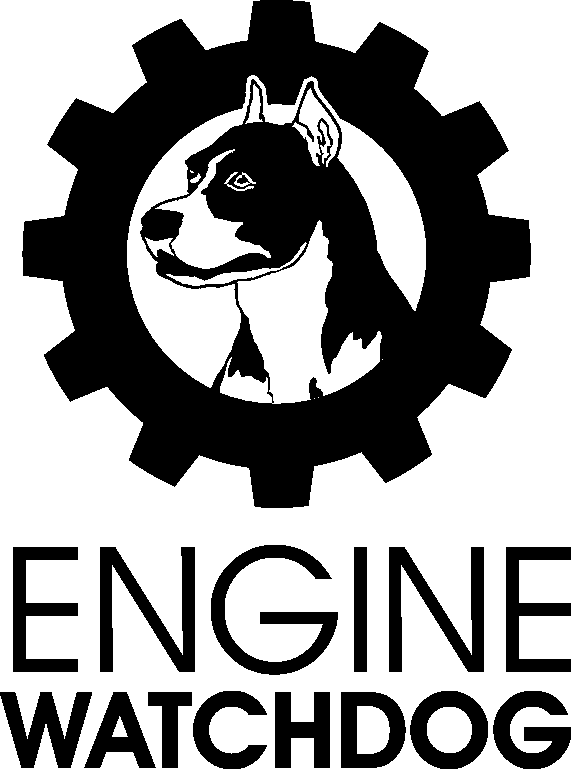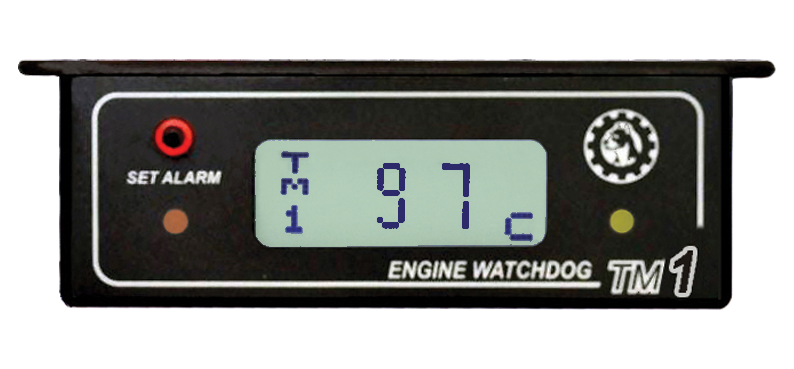 ((( Audible))) Engine Temperature & Low Oil Pressure Alarm
Ideal engine protection for all moving vehicles
Air or water cooled
For All Cars, Trucks, Boats, Bikes, Tractors & Machinery
Just released! The single sensor TM1 now also records the highest engine temperature reached.
The TM1 accurately displays engine temperature and alarms with a Warning light, Loud buzzer & Display messages if engine overheating or low oil pressure is detected.
The TM1 is ideal for alarming Engines, Gear boxes, Transmissions, Transfer boxes, Pumps, in fact any thing that operates between 1 to 125 degrees Celsius (33 to 255 F - see TM2F in options).
Display Functions and Alarm Messages:
The TM1 has a neutral white LCD screen with an automatic back light so it blends into both old and new dash boards. It displays big numbers that are easy to read in either bright sunshine or at night. All functions and alarms on the TM1 are accompanied by individual display messages, including advanced messages such as 'Sensor Not Connected' should the sensor cable be cut.
Temperature Warning Alarm:
The Engine Watchdog TM1 offers the best all round early warning engine overheating protection available. The TM1's advanced electronic 'EASY FIT' heat sensor monitors the actual metal temperature of the engine, this way ALL causes of overheating are quickly detected before damage can occur.
The sensor fits like a washer under any convenient bolt on the engine that is near the heat source, here it rapidly detects the slightest changes in engine temperature. The TM1's warning alarm sensitivity can be set to suit your individual engine and needs.
The alarm is set by either observing the engines highest normal running temperature, or interrogating the Highest Temperature Reached function on the TM1. Then the alarm is set to a higher temperature by using the push button on the front . Typically the alarm is set to between 5 and 10 degrees above the engines normal running temperature, this usually equates to the warning buzzer sounding at just one or two needle widths above the normal mark on most car temperature gauges.
Because you're not breaking into the cooling system, the TM1 is the quickest, easiest and safest system on the market. The TM1 will not void engine warranty and can be easily fitted by a home handyman.
Oil Light Warning Alarm:
The TM1 can turn a vehicles oil light into an Audible Oil alarm. By connecting the TM1's oil wire to the existing oil light sender, whenever the oil light comes on the alarm will sound and the 'Low Oil' message will display. When starting the engine the TM1 will display 'Delay On', this gives the driver 10 seconds to start the engine before the oil alarm is activated (if the oil wire is not connected to the oil sender the above messages & alarms will not be apparent).
NOTE This feature is not compatible with oil gauge sensors. If you only have a oil gauge and want the oil alarm feature, fit an inexpensive oil light sender to the engine - Standard car type - normally closed contacts, open on pressure. Further Note If you only have an oil gauge. Oil system faults can cause abnormal heat build up in engines, this overheating is often detected by the TM1 .
US. & Canadian Customers - Fahrenheit readout is available, see Specifications and choose Model TM1F when ordering.
General purpose single sensor TM1 AU $149.00 includes the 'Easy Fit' heat sensor, internal buzzer, automatic back light, cigarette lighter power plug, under dash lid, installation kit, water resistant front & FREE postage World wide.
TM1 has a number of free options, see the side bar for FREE OPTIONS .
PRICING, CONTACT & ORDERING INFORMATION
BUY A SINGLE SENSOR TM1 NOW
HOME | Easy Fit HEAT SENSOR PRODUCT DESCRIPTION
CONTACT INFORMATION
Optional Extras See Pricing
Mini Sirens: For an extra $20 a very loud mini siren can be fitted. These sirens are ear piercing when close up, but can be subdued by placing tape over the aperture. NOTE The siren is fitted to the 'external buzzer output lead shown in Free Options
FREE OPTIONS
Fahrenheit Version Unit: Reads in two degree increments from 34 to 255 degrees F. CLICK 'TM1F' ON ORDER PAGE
Longer sensor leads are available for boats & machinery: For the single sensor model lengths up to 10 metres (30ft) are free. For the twin sensor models lengths up to 6 metres (20ft) are free. A small charge apply's for sensor leads over these lengths. SPECIFY LENGTH REQUIRED ON ORDER PAGE
Water Resistant front: Standard on all TM1 models
External Alarm Output lead: The TM1 alarms using an internal buzzer. The voltage that drives this buzzer can also drive an inexpensive 12v horn/spotlight relay for turning on flashing lights & other warning devices.( NOTE the internal buzzer and relay come on together) IF REQUIRED, CLICK 'BUZZER OUTPUT LEADS' & THE LENGTH REQUIRED
Lid without mounting tabs. Standard units come with 12mm tabs on the sides for under dash mounting. If you want straight edges so you can stick the unit down onto the dash, IF REQUIRED CLICK 'LID WITHOUT MOUNTING TABS' WHEN ORDERING
Compact Size: Face is W 82 mm x H 30 mm. Depth back is 60 mm. A standard lid with mounting tabs adds 12 mm to each end. A lid with No mounting tabs is available , see above in FREE OPTIONS

Max operating Temp: 127 degrees Celsius or 255 Fahrenheit. Fahrenheit version is available, see above in FREE OPTIONS
Alarm Temp: Adjustable by pressing the front push button. Can be set to alarm at any temperature between 1 to 127 degrees Celsius. (TM2F is adjustable from 34 to 255 degrees Fahrenheit in two degree increments)
Alarm Volume: Internal alarm 85db, plenty for most situations. Very loud external mini sirens are available at EXTRA COST. See Extra Options above.
Sensor wire length: 4m (12ft) Longer leads are available for boats and machinery, see above in FREE OPTIONS.
Power: Suits 12 or 24 volt systems. Current consumption without alarms on is 15mA.